Nowadays, there is a myriad of crypto-based businesses emerging in the market. One such business that is generating significant revenue is a cryptocurrency wallet. There are two ways to create your wallet: developing it from scratch or using a pre-built crypto wallet script.
If you are entering the market with a wallet business with a limited budget, consider using ready-to-deploy software. It offers a perfect balance between quality and cost, giving you peace of mind about the software's quality for your business.
In this short blog, we will provide a complete guide on the crypto wallet script. And will cover its features, benefits, and how to use the script to create your crypto wallet.
What is Crypto Wallet Script?
Crypto Wallet Script is a pre-built software that comes with the necessary features, plugins, and security measures to create a non-custodial or custodial wallet of your choice. With the customization option, you can effortlessly make changes to match your specific needs, including interface, features, and security.
The functionality of this crypto wallet script is similar to that of other cryptocurrency wallet applications. It includes key features such as storage and receipt of crypto-assets, encryption for both private and public keys, and more. Most importantly, the ability to manage the wallet's entire function through the admin portal.
With this impeccable solution, you can easily and quickly set up a highly functional wallet and rival other established wallets like Trust Wallet and BitMex. If you're interested in testing out the functionality and features, contact us to try our demo software free of cost.
If you want to know what are some key features in the script before exploring the demo software. Then scroll down to know more about its features.
Key Features Of Crypto Wallet Clone Script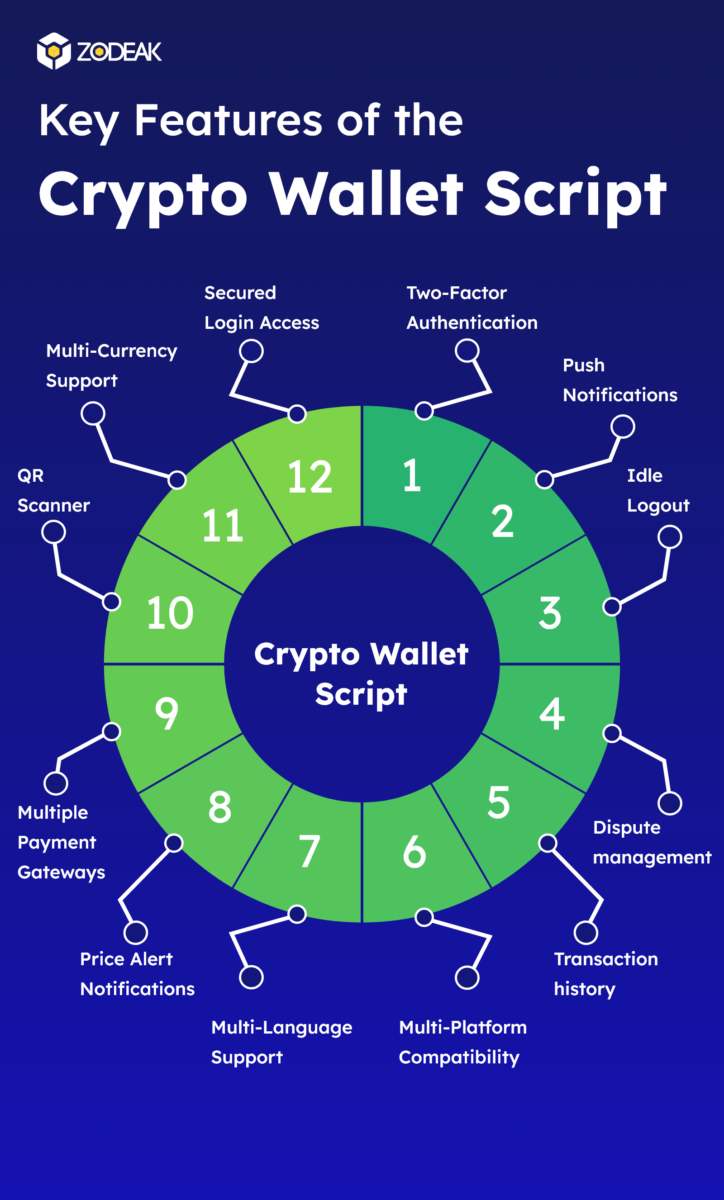 When it comes to crypto business, the key to success lies in the features you offer. This holds true for crypto wallets as well. By including user-centric features, you can set yourself apart from your rivals and increase your chances of success in the market.
Here is the list of the key features that you may find or include in the crypto wallet script you get.
Two-Factor Authentication (2FA): This feature requires users to provide two separate authentications to enhance wallet security before accessing their accounts. This usually involves a password and a one-time code generated on their smartphone.
Push Notifications: Users also get real-time updates and information about their wallet activity, such as incoming transactions, confirmations, and other relevant information. Besides, it helps users access information and engage with their wallet activities.
Multi-Currency Support: The wallet script supports all sorts of cryptos such as bitcoins, altcoins, and tokens. It allows users to store and manage a diverse range of digital assets within a single wallet interface.
QR Scanner: This feature allows users to easily send and receive cryptocurrencies by searching for a QR code. QR codes typically contain a wallet address and transaction term, making the process much easier.
Idle Logout: The wallet will automatically log out of the account if there is no activity for a certain period. As a security measure, this helps to prevent unauthorized access if a user forgets to manually sign out.
Multiple Payment Gateways: The script supports multiple payment methods, making it easy for users to use various payment methods such as credit cards, bank accounts, and other deposit options in their accounts.
Transaction History: Users can view a detailed history of their previous transactions, including the transaction amount, dates, and receipt wallet address.
Other Important Features of the Crypto Wallet Script
Price Alert Notifications: Users can set price alerts for specific cryptocurrencies or tokens. When the price reaches a set point, the wallet sends a notification to the user, allowing them to react promptly to market changes.
Multi-Language Support: The wallet interface can be displayed in multiple languages, cater to users from different locations, and ensure an inclusive experience.
Secured Login Access: This feature ensures that only authorized users can access the wallet. Users have to set up strong passwords to protect their accounts from unauthorized access.
Multi-Platform Compatibility: The wallet script works on multiple platforms, such as web browsers, iOS and Android mobile devices, and potentially desktop applications. This allows users to conveniently access their wallets from different devices.
Dispute Management: If a user faces issues or disputes related to transactions or account activities, the wallet script likely offers a mechanism to manage and resolve such disputes by contacting the admin to ensure a smoother user experience.
Before selecting a crypto wallet script, it's crucial to ensure that it has all the necessary features. If any features are missing, you can request customization to include them.
After looking at the features what else is there? Let's dive into the process of creating your crypto wallet using this pre-built solution.
Develop a Crypto Wallet with Crypto Wallet Script
There are two viable options for creating a non-custodial crypto wallet – either building it from scratch or purchasing a pre-made solution. However, some startups are faced with budgetary constraints, making it difficult to develop a wallet from scratch. This is why the crypto wallet script was introduced to rescue them.
The developing process of a wallet with this readymade software is a breeze, with just a few simple steps to get you up and running.
Before creating a crypto wallet, it's important to analyze the market to know current trends. This will enable you to include or develop unique features that help your business stand out.
After completing the analysis, you will need to select the method of accessing your cryptocurrency wallet, either through a browser extension or a mobile app.
Once you've chosen your preferred method, you'll need to work with a crypto wallet development company. As their expert developers can help you customize the features and other services you need for your wallet business.
Customize the logo, designs, color, typography, and admin dashboards according to your discretion and make it live.
These are the procedures to consider creating your crypto wallets. Therefore, with just a little customization now you can launch your crypto wallet with confidence and take charge of your financial future.
If you're still not convinced that a crypto wallet script is the right way to go, keep reading to know more about the benefits of using it.
Benefits of Using Crypto Wallet Script
Using a wallet script offers numerous advantages for your business compared to building a crypto wallet from scratch or other methods. including easy installation, fast deployment, and more. Below, we will explore these benefits in detail.
Time-Consuming: Creating a crypto wallet using a script is a faster method compared to other options. This enables you to launch your crypto wallet business in a short span of time.
Cost-Effective: Crypto Wallet Script prices start from $7000 and vary depending on the features integration, and customization you choose. So you can easily create your crypto wallet without breaking the bank.
Easy to Use: Choosing the right wallet script can help you develop a cryptocurrency wallet that is easy to use. This will enable you to reach a wider audience on a global scale.
Customization: With the wallet script, you can modify your wallet to fit your preferences. This ensures that your wallet is more user-friendly for your investors.
High-end Security: When using this solution, there is no risk of phishing, fraudulent activities, or theft. You can include your desired security features to protect users' data and assets.
These are the some of benefits that are offered by the crypto wallet software for your business. By considering these benefits, many startups prefer using wallet scripts to launch their wallets.
So, to create a wallet with a crypto wallet script, begin by selecting a top crypto wallet development company like Zodeak. When selecting the appropriate company for your business, it is advisable to compare the demo software of the various options you have chosen.
Why Zodeak for Crypto Wallet Script?
Zodeak, as a Crypto Wallet Development Company, offers top-quality crypto wallet script for both custodial and non-custodial wallet businesses. Additionally, we provide Trust Wallet Clone Script, Metamask clone and other pre-built solutions.
Besides, we provide wallet-related services and customization based on your business needs with add-ons. With our assistance, you can create a wallet with enhanced security for storing cryptos and transaction records safely using public or private keys.
Start your wallet business today and offer your users the safest crypto app worldwide tomorrow for their digital assets.