Hey! Have you heard of the Binance NFT marketplace? Certainly, you might! If not, let me introduce one of the most popular marketplaces in recent times to you. Because this platform has evolved into a developing model for many startups.
Before diving into the subject, let's first see what is Binance NFT marketplace and take a step back and see the milestones from its inception, which could be useful for a startup business. 
What is Binance NFT Marketplace?
The Binance NFT Marketplace is designed to enable users to buy, sell, and trade digital assets such as art, music, videos, and other collectibles. It is one of the largest cryptocurrency exchanges that launched its own NFT marketplace in June 2021.
Generally, the Binance marketplace offers a wide range of NFTs, including limited edition and exclusive collections from popular artists and creators. It also features tools and resources to help creators and artists mint and sell their NFTs on the platform.
Additionally, users need to have an account and complete a KYC (Know Your Customer) verification process to participate in the NFT marketplace like Binance. It supports various cryptocurrencies, including Bitcoin (BTC), Binance Coin (BNB), and Ethereum (ETH), for NFT purchases for its platform users.
Thus, the launch of the marketplace is expected to further expand the popularity and adoption of NFTs by providing a convenient and reliable platform for buying, selling, and trading digital assets.
Before getting into the discussion know what they have done so far.
Milestones of Binance NFT Marketplace Since Its Launch!
Binance, one of the world's largest cryptocurrency exchanges, launched its NFT platform on June 24, 2021. It allows users to buy, sell, and trade a variety of NFTs on the platform. It includes artwork, music, and other rare collectibles. 
Here are some milestones of the Binance NFT marketplace:
In 2021
Binance announces a partnership with the NFT platform, Mythical Games, to bring exclusive NFTs from popular games like Blankos Block Party and Neon District to the Binance marketplace.
Binance partners with The Hermitage Museum in Saint Petersburg, Russia, to bring the museum's artwork to the Binance NFT marketplace. And also a partnership with Nifty Gateway, to bring exclusive NFT collections from top artists to the Binance platform.
Binance also launches the 100 Creators campaign, which features exclusive NFT collections from 100 different creators. The campaign was successful at the time, with many NFTs selling out quickly.
In 2022
Binance NFT has grown to rank among the most popular NFT marketplace in the world. This is due to a variety of new, cutting-edge features on its platform and intriguing high-profile partnerships.
Binance partners with the leading blockchain-based game, Axie Infinity, to bring exclusive NFTs from the game to the Binance marketplace.
In 2023
Binance remains one of the largest NFT marketplaces in the world, with millions of users. Also, they continue to expand their NFT marketplace with new partnerships, exclusive collections, and innovative features, to offer a comprehensive NFT ecosystem for users and creators.
well, now let's take a closer look at the Binance NFT platform in the discussion below.
Binance NFT Marketplace Facts You Should Know!
The Binance NFT marketplace has only been launched for a few months and has already seen significant activity. It has seen impressive activity and growth since its inception. Meanwhile, it is expected to continue to play a significant role in the NFT market.
Here are some statistics of the Binance NFT platform for you to know…
They processed over 100,000 transactions, with a total trading volume of over $10 million within the first 24 hours of launch.
The platform has featured exclusive NFT collections from popular artists and brands such as Alphonso Davies, Michael Owen, Aston Martin Cognizant, José Delbo, and many more.
They have also partnered with various NFT marketplaces and creators to bring their collections to the platform, including Art Blocks, The Sandbox, and many others.
The Binance NFT platform supports various cryptocurrencies for NFT purchases, including Binance Coin (BNB), Ethereum (ETH), and BUSD (Binance USD).
Therefore, the platform offers various features and resources for creators and artists to mint and sell their NFTs. Also, features like customizable smart contracts and royalty systems. Now let's see its features elaborate.
What are the Features of the Binance NFT marketplace?
As we all know Binance has partnered with several popular brands and artists, to offer exclusive NFT collections on its platform. So, they should offer first-class features to the artists and creators to manage their accounts and bid on unique and rare NFTs.
Here is the list of core and common features of the Binance NFT platform offers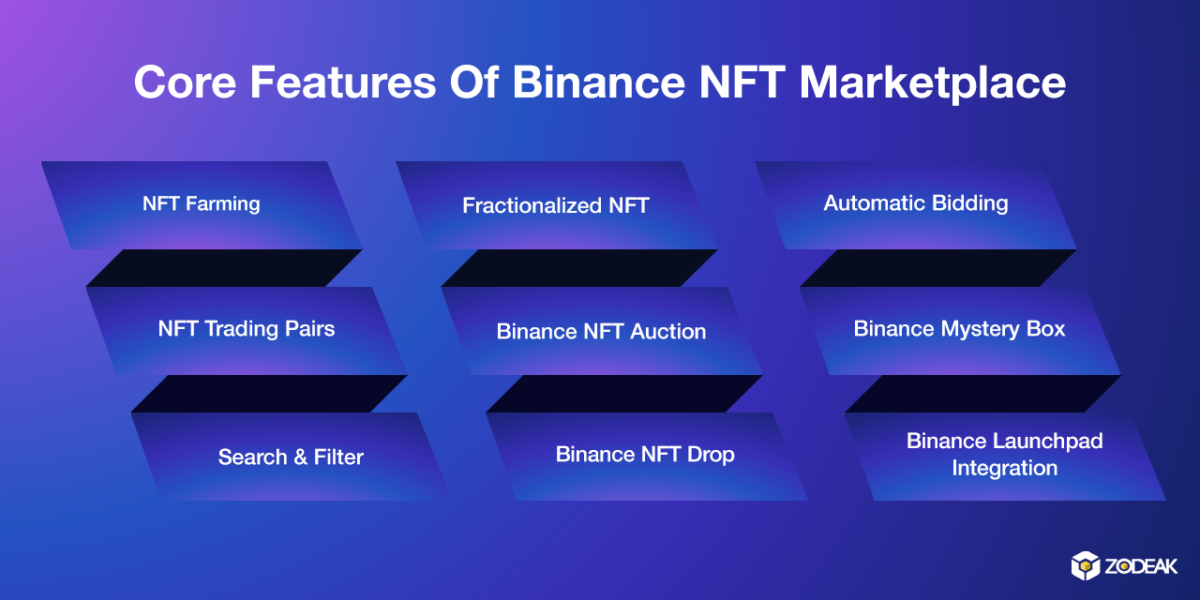 NFT Farming
NFT Farming allows users to earn rewards by staking Binance Coin (BNB) or other cryptos to farm NFTs on the platform. Although, users can earn NFTs as rewards through staking crypto assets. Also, the number of NFTs earned depends on the number of crypto assets staked, the duration of the staking period, and other factors.
NFT Trading Pairs
NFT trading pairs allow users to trade NFTs directly with other cryptocurrencies on the platform. For example, a user can use Binance Coin (BNB), Bitcoin (BTC), Ethereum (ETH), or other cryptocurrencies to buy NFTs. The available trading pairs may vary depending on the NFTs that are listed on the marketplace.
Search & Filter
The search and filter feature is an important tool that allows users to search for and filter NFTs based on specific criteria. This feature in addition provides a way for users to quickly find the NFTs that they are interested in and filter out the ones that are not relevant to their search.
The Search & Filter feature allows users to search for NFTs based on various criteria, such as the name or creator of the NFT, the collection that the NFT belongs to, and the price range. Users can also filter their search based on the type of NFT, the rarity, the category, and other attributes.
Fractionalized NFTs
Binance Fractionalized NFTs feature is a unique feature that allows users to buy and sell fractions of an NFT. This feature provides an opportunity for users who may not have the resources to purchase a whole NFT to still be able to invest in and own a fraction of it.
To fractionalize an NFT on the marketplace, the owner of the NFT first lists it on the platform. Once the NFT is listed, users can then purchase fractions of the NFT. The value of each fraction is determined by the overall value of the NFT, divided by the total number of fractions available.
Binance NFT Auction
The Binance NFT Auctions are scheduled for a specific date and time and other criteria. The auction can last for several hours or days, depending on the seller's discretion. Users can place bids on the NFT they are interested in. Hence, the Bids can be placed manually or automatically using the automatic bidding feature.
Binance NFT Drop
The Binance NFT Drops feature is a timed sale event that takes place on the marketplace. During a drop, a limited number of exclusive and rare NFTs are made available for purchase at a specific time.
This feature is mainly used to release new and exclusive NFT collections or collaborations. These drops are highly anticipated and can generate significant buzz in the NFT community, with many users eager to acquire these unique and rare NFTs.
Automatic Bidding
The automatic bidding feature allows users to set a maximum bid. And the system will automatically increase the bid by a set increment until the maximum bid is reached or outbid. The highest bidder will receive the NFT at the end of the auction, and the deal will be finalized.
Binance Mystery Box
Binance Mystery Box allows users to purchase a mystery box containing one or more NFTs with a guaranteed minimum value. The contents inside the box will not be revealed before it is purchased. This is to create surprise and anticipation for the buyer. This is to create surprise and anticipation for the buyer.
Binance Launchpad Integration
Binance Launchpad is connected to the marketplace to help NTF innovators and creators showcase their work. Moreover, this allows creators to launch their NFT collections on Launchpad and help them reach a wider audience.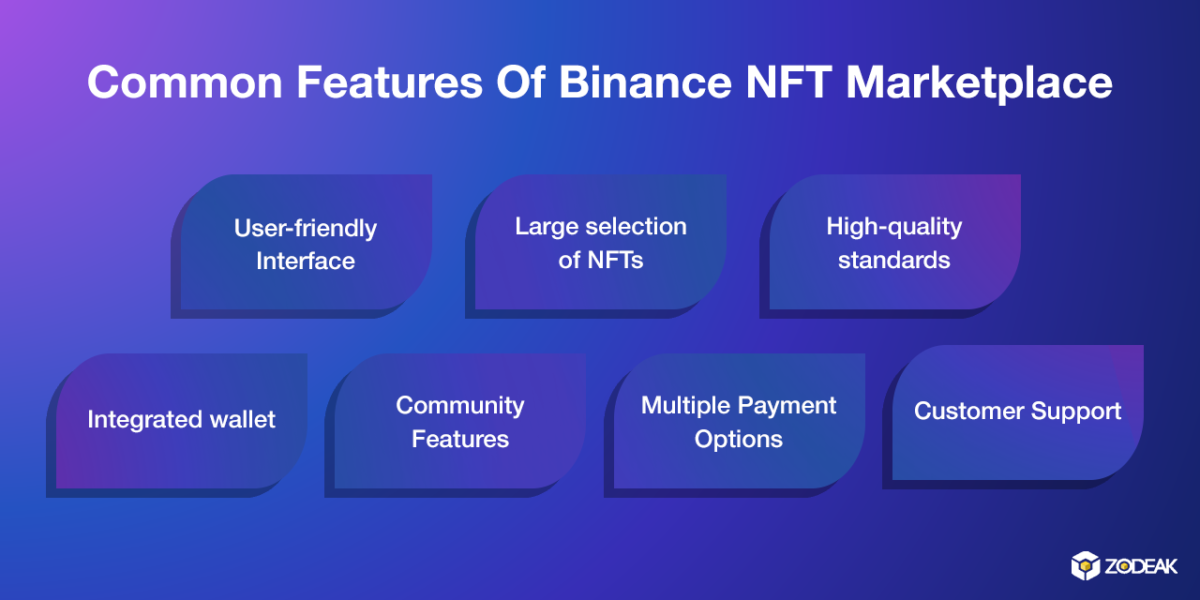 User-friendly Interface, designed to be easy to use in the marketplace without any hassle. With a simple interface that allows users to browse, buy, and sell NFTs with ease.
1. Large selection of NFTs including artwork, music, videos, and collectibles from both established and up-and-coming artists and creators.
2. High-quality standards and, original NFTs that meet certain standards for authenticity and uniqueness.
3. Integrated wallet on the marketplace with the BSC wallet allows users to easily manage their NFTs and other digital assets.
4. Community Features such as social media sharing, messaging, and commenting, allow users to interact and engage with each other.
5. Multiple Payment Options including credit cards, bank transfers, and cryptocurrency, make it easy for users to buy and sell NFTs.
6. Customer Support options enable live chat, email, or phone to assist users with any doubts, questions, or problems they may have.
Therefore, these are some of the core and common features that Binance NFT Market offers to users. Along with this, it offers search and filtering, push notifications, Liking NFT, and makes it a favorite. And it also offers all the basic to advanced features like other players in the market.
Hope you get some insight into what is Binance, its statistics, and its features now. Now let's see why it is the most preferred platform for many startups now as a developing model for their business.
Why is the Binance NFT Marketplace Highly Preferable?
In recent times, the Binance NFT marketplace has been highly preferable among startup entrepreneurs. Here is the list of reasons why it is highly preferable.
Credibility
Binance is one of the largest and most reputable cryptocurrency exchanges in the world, with a proven track record of security and reliability. And this makes this marketplace a credible and trustworthy platform for buying, selling, and trading NFTs.
NFT Collections
The platform offers a wide range of NFTs, including exclusive and limited edition collections from popular artists and brands. This provides users with a diverse selection of digital assets to choose from.
User-Friendly Interface
It has a user-friendly interface that is easy to navigate, even for beginners. The platform offers various features and tools to help users buy, sell, and trade NFTs.
Perfect Revenue Model
It has the perfect revenue model to generate revenue by offering valuables and services to its users. It generates revenue through Transaction Fees, Listing Fees, Subscription Fees, Advertisements, Premium NFT Sales, and Royalties. 
Creator-Friendly
The Marketplace provides creators and artists with the tools and resources they need to mint and sell their NFTs. This includes customizable smart contracts, royalty settings, and other features to help creators monetize their digital content.
Therefore, the Binance NFT marketplace is a highly preferable platform for buying, selling, and trading NFTs, due to its credibility, wide range of NFTs, user-friendly interface, low fees, and creator-friendly features.
Now it's time to conclude this blog with a few words!
Final Words!
We hope the above information will help you make an informed and better decision for starting your NFT marketplace business. As the Binance NFT marketplace is an all-rounder with cutting-edge features, many startups prefer to use them as benchmarks for their new NFT venture.
In a way, to roar in the future and ascend to inevitable heights you need an NFT marketplace script like Binance has. Therefore, the Binance NFT Marketplace clone Script is the best choice and the only way to start your business and access the market immediately.
Use our free consultation to learn more about Binance NFT Marketplace Clone benefits, features, cost, and free software presentation!
Schedule a discussion with our experts now! They are eager to share their knowledge with avid NFT Marketplace creators like you!