In recent times, artists, musicians, photographers, and designers have all leaped on board the NFT market to promote and monetize their work. NFT Marketplace Script, on the other hand, has emerged as an innovative solution for startups looking to capitalize on this growing demand and build their own NFT marketplace business.
In this blog, we will cover all about NFT Marketplace Script and also explore the steps to build the platform.
So, come let's start delving deeper…
What Is The NFT Marketplace Script?
An NFT marketplace script is ready-to-use software that enables the creation and management of a non-fungible token platform effectively. It includes features for creating and buying/selling Non-fungible tokens, and managing user accounts, payments, and transactions.
To create NFT Marketplace, basically, you need to provide creators (sellers) with the tools to create NFTs for their digital files or collectibles. Also, requires tools to set prices, and fees, and display & sell non-fungible tokens directly or auction them on the platform to buyers.
Generally, there are many approaches to NFT marketplace development, but the NFT Marketplace clone script is the most preferred by startups. This is due to several reasons, which we will discuss later. The most popular NFT marketplace clone are
Rarible Clone Script
OpenSea Clone Script
Foundation Clone Script
Sorare Clone Script
NBA Top Shot Clone Script
The NFT marketplace clone you choose can be customized and linked to the desired blockchain of your choice. Because the created NFTs are stored on a blockchain, which provides a secure and transparent way to track ownership and transfer of ownership.
Now, let's see what this script and clone solution features in the following discussions.
What Are The Features Of NFT Marketplace Script?
NFT marketplace script features help to provide a user-friendly and secure platform for buying, selling, and trading NFTs seamlessly. These features can vary depending on the specific platform and niche, but here are some features you need to know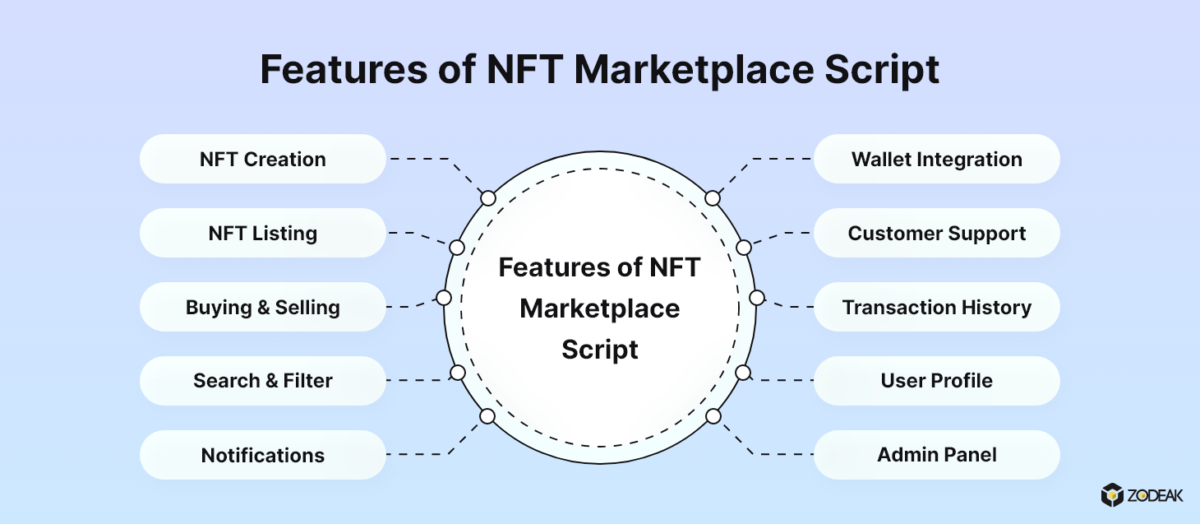 NFT Creation
Creators create and mint new NFTs for their digital files with specific attributes such as name, description, image, and metadata.
NFT Listing
Creators can list their NFTs for sale or auction on the marketplace platform, setting prices, auction times, and minimum bids.
Buying And Selling
Buyers can browse the NFT listings and purchase non-fungible tokens using cryptocurrency, which is transferred directly to the seller's wallet.
Trading
The sellers trade NFTs using either fixed prices or auction-based bidding systems. Buyers can participate in auctions or buy NFT directly from sellers by messaging them privately.
Wallet Integration
Users can integrate cryptocurrency wallets to facilitate secure transactions and track ownership of NFTs.
Search And Filter
This Search and filter is a sophisticated option to search for NFTs by keywords, artist, price range, or other parameters. And apply filters to refine the search results.
User Profile
User profile options help to display information about the user, their NFTs, and their transaction history.
Transaction History
Users have access to their profiles to view a record of all transactions, including buying, selling, and trading NFTs.
Notifications
The notification option automatically helps users to get aware of changes in NFT status, transaction confirmation, and other important updates.
Admin Panel
An effective admin panel allows for the management of users, NFTs, and transactions, other platform settings and also helps to generate real-time reports.
Customer Support
Customer support options such as live chat, email, or phone to assist users with any issues or questions they may have.
These above-mentioned features are essential for running a marketplace and also you can add other on-demand features according to your choice. By doing this you can launch NFT marketplace instantly and your business has greater growth.
Hope you know what the NFT marketplace script is and its features. Now let's see what are the benefits of using this solution.
Benefits Of Using NFT Marketplace Script
Many startup entrepreneurs are now considering building their own NFT marketplace using this effective solution. So, know why these startups are using this solution for their business,
Highly-Economical
Creating a platform from scratch can be an expensive and time-consuming process for some startups. On other hand, NFT marketplace scripts cost starts from $10,000 and varies based on the elements(features, integration, plugins) you add.
This way, the scripts are pre-built with all the required features, saving time and money.
100% Customizable Solution
Although the scripts come with the necessary features, they are also customizable. You can add or modify the script to suit your specific business needs and requirements.
User-Friendly Interface
NFT marketplace scripts are well-crafted to be user-friendly. Because, they have an intuitive interface that makes it easy for users to buy, sell, and trade NFTs.
High-End Security
This solution comes with built-in security features that protect users' data and intruders. So, it includes advanced security features like two-factor authentication, multi-signature wallets, and more.
Highly Scalable
Your platform can handle large volumes of transactions and users. Besides, you can easily add more servers to handle the increased traffic as your marketplace grows.
Quick Deployment To Market
With this ready to launch NFT Marketplace script, you can quickly start your business and deploy it immediately before your rivals. Also, you can focus on marketing your business by spending time on development.
Support And Updates
Today, most NFT marketplace scripts come with support and updates. This means that if you encounter any issues, you can reach out to the NFT marketplace development company for help. Also, their developers will provide regular updates to improve the script's performance and security.
Thus, using NFT marketplace scripts can save time and money while still providing a customizable, secure, and scalable platform for buying and selling NFTs.
NFT Marketplace Script: Revenue Stream
As a startup, you can generate more profit by leveraging the right revenue stream for the value you provide. Moreover, it can generate revenue through various monetization strategies including
Transaction Fees
The most common for all NFT marketplaces is to charge a transaction fee on each successful sale or trade of an NFT. Typically, this fee is a percentage of the total sale value and is paid by the seller or buyer.
Listing Fees
Another revenue model is to charge sellers a fee to list their NFTs on the marketplace platform. This fee basically can be a fixed amount or a percentage of the expected sale value.
Subscription Fees
Some platform charge users a monthly or annual subscription fee to access premium features such as advanced analytics, premium support, or exclusive NFT drops.
Advertisement
You can also generate revenue through advertising, by displaying ads to users on your marketplace. This model can be based on pay-per-click or impression-based advertising.
Premium NFT Sales
You can generate revenue by selling your own premium NFTs, either through auctions or direct sales.
Royalties
This is a percentage of the resale price of non-fungible tokens. When an NFT is resold, a portion of the sale value is paid to the original creator and the marketplace platform.
In a way, the revenue stream includes VIP special services, registration fees, transaction processing fees, and so on. The choice of revenue model depends on the specific needs and niche of your business.
Next, let's see what niche NFT marketplace script can help with.
NFT Marketplace Script For Various Niches!
Generally, there are several NFT marketplace scripts available for various niches, catering to specific industries and audiences. Here are some niches for you to adopt for your business.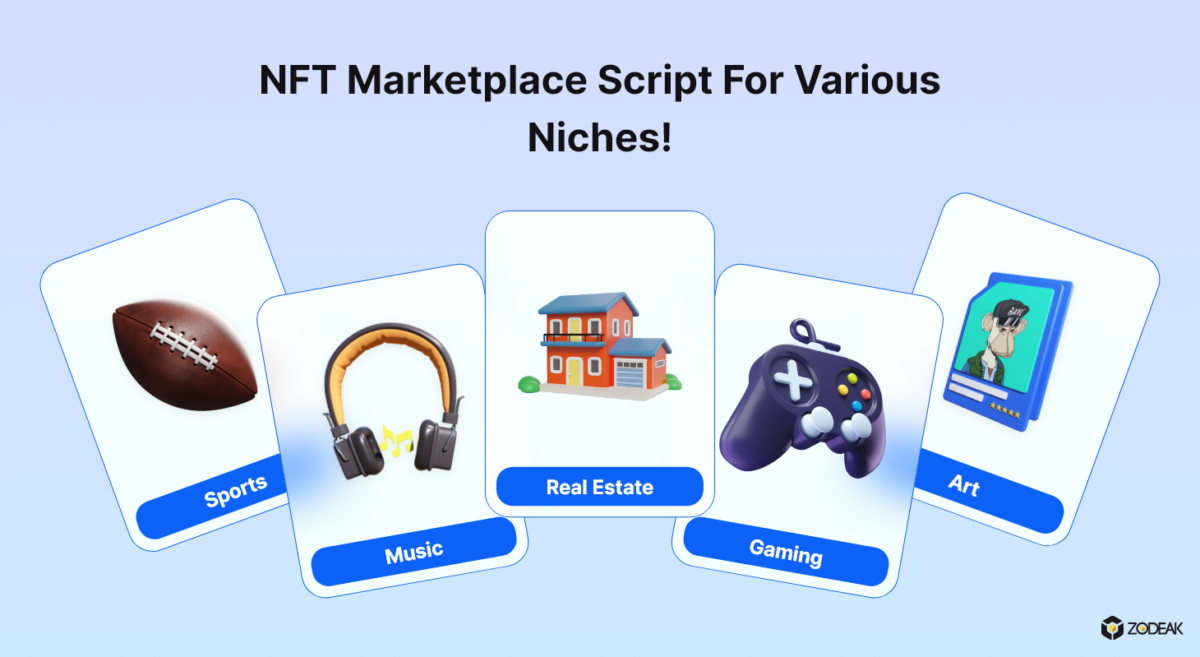 Art Marketplace
Digital artwork creators can showcase and trade their works without the help of a middleman and retain full ownership of their creations.
Example: OpenSea, SuperRare, Nifty Gateway, and KnownOrigin are popular NFT marketplaces for buying and selling digital art and collectibles.
Gaming Marketplace
Players can collect in-game items and convert them into NFTs. As this niche gains more user base, marketplace aids generate significant revenues.
Examples: Immutable X, Axie Infinity, and Enjin Marketplace for the gaming industry. The players on the platform can buy, sell, and trade in-game items.
Music Marketplace
Generally, musicians can tokenize their musical composition works as NFTs and sell them to others in the marketplace.
Examples: Audius and Catalog Marketplace for music. The artists can mint and sell unique digital music assets, including albums, songs, and royalties.
Sports Marketplace
Sports fans can create their favorite sporting personalities or moments into NFT and trade them. Users can create non-fungible tokens for various sports such as Football, Cricket, and also NBA.
Examples: NBA Top Shot and Sorare are for sports. The users can buy and trade digital collectibles related to sports teams and athletes.
Real Estate Marketplace
Sellers can tokenize real estate assets as NFTs and list them on the platform for further purchase by users or buyers.
Example: Decentraland & Somnium Space for virtual real estate. The users can buy and sell virtual real estate, which can be used for gaming, events, and social interactions.
These are some of the popular niches you can start your business using the ready to launch NFT marketplace. Also, there are many niches such as metaverse, photography, food, videos, and more.
These niche-orientated NFT Marketplaces provide a space for creators and collectors to exchange digital assets for their desired cryptos. Also, it offers a new way to monetize their digital content and provides a unique experience for collectors to own an NFT.
Now, let's see how you can create a platform for your chosen niche for your business.
How To Create NFT Marketplace?
As mentioned above, you can create a platform either by using the development method or buying a superfine NFT marketplace script. To create NFT marketplace here are a few common steps for both approaches,
Define Your Niche
Firstly, decide on the niche or industry you want to cater to with your NFT marketplace and identify your target audience.
Choose Blockchain Network
Choose the blockchain network you want to build your NFT marketplace on, such as Ethereum, Binance Smart Chain, or others.
Hire Development Team
Hire a team of experienced developers who specialize in blockchain and non-fungible token development. Because, they help you build the platform or customize the script, integrate it into the blockchain network, and implement the necessary features.
Design User-Friendly Interface
While, designing an intuitive and user-friendly interface for your NFT marketplace, focus on appealingly showcasing the NFTs.
Develop Or Add Features
Develop or add on-demand features in your NFT marketplace, including NFT creation, listing, trading, wallet integration, user profiles, transaction history, payment gateway, and more.
Integrate Payment Gateways
Choose and integrate appropriate and secure payment gateways such as banks, debit cards, UPI, cryptocurrency wallets, and more.
Test & Launch
Test the platform thoroughly to identify bugs or glitches, and then launch your NFT marketplace to market and start promotion.
Marketing & Promotion
Finally, promote your NFT marketplace to your target audience, using social media, email marketing, and other digital marketing techniques like referrals.
Therefore, creating a platform requires expertise in blockchain development, user experience design, and marketing. Besides, it is important to work with a reliable and experienced NFT marketplace development company to ensure the success of your business.
Now, it's time to end the session with a final note…
Wrapping Up!
Hope we have covered everything about NFT Marketplace Script and how to build your platform in this article. If you have any queries regarding NFT-based business, feel free to contact our experts at any instant.
Our experts always love to share and work with people who are interested in NFT marketplace development!!
Frequently Asked Questions
What is NFT Marketplace Script?
NFT Marketplace Script is a ready-to-deploy software that helps to run an online marketplace for buying & selling NFT-based creative content like art, music, and more.
Why do entrepreneurs choose NFT Marketplace Script?
Reason for choosing NFT marketplace script – cost-effective, customizable, quick time-to-market to launch an NFT marketplace quickly and efficiently.
What are the major features of NFT Marketplace Script?
NFT Marketplace Script features are List/Browse, Buy/Sell, Blockchain, Profile Management, Messaging, fee Management, and Admin Dashboard.