Today, starting a new online business is unchallenging and effortless because of the white-label NFT Marketplace. Startups can easily avoid developing solutions from scratch for their business that come with many technical headaches. Also, they need not invest more in resources which put a strain on their finances in the early stages.
Meanwhile, White-label NFT Marketplace is highly preferable among startups to build their empires in the crypto sector. This is because creating software from the scratch brings many pitfalls to them. By doing so,
1. Slowed down the deployment of the marketplace to market
2. End up spending an excessive amount of money on the software's development
3. Lack of communication and deprived access to know-how
However, the debut of white-label software has smoothed the path to starting an NFT marketplace business today.
In this blog, we will describe in detail the white-label NFT marketplace, its functionality, features, benefits, and cost. So, feel free to click the links in the blog to get more information!
Now, Let's starts with the basic and move on to the topic.
What is White-label NFT Marketplace?
White-Label NFT Marketplace is a complete software set that automates, manages, and operates a non-fungible token platform business effortlessly. Moreover, It is built to be easily branded and customizable to make colors, typography, logos, image, content, and other elements to make your platform unique.
Generally, the NFT marketplace software provides a wide range of tools and features for artists or creators to create non-fungible tokens and list them for sale. And enables buyers to browse and purchase desired items using specified cryptos.
This ready-to-launch NFT marketplace allows startups to quickly enter the market without having to invest in developing a solution from scratch. They can be customized or seamlessly integrated into the existing or new business.
When choosing software for your startup, you must still take into account elements like compliance, security measures, and user experience. Also, it's crucial to select the best White-label NFT Marketplace Provider with a track record of offering secure and reliable software that satisfies their client's business needs and preferences.
Hope you get some little insights on what white-label NFT Marketplace is, let's now look at how it helps startups in their business to be profitable.
How can startups profit using the White-label NFT Marketplace?
In your NFT marketplace artists and other creators (sellers) will sell their Non-fungible tokens in exchange for Bitcoin or other desired cryptocurrencies. These non-fungible tokens are sold to many buyers on the platform. As a platform owner, you can collect a certain fee from the sellers.
In addition to this process, some other charges allow the platform owner to earn some decent commission. You can add some more revenue streams as per your idealogy in the software.
Here, we've compiled a list of revenue streams to include at your discretion when building a platform using the white-label NFT marketplace: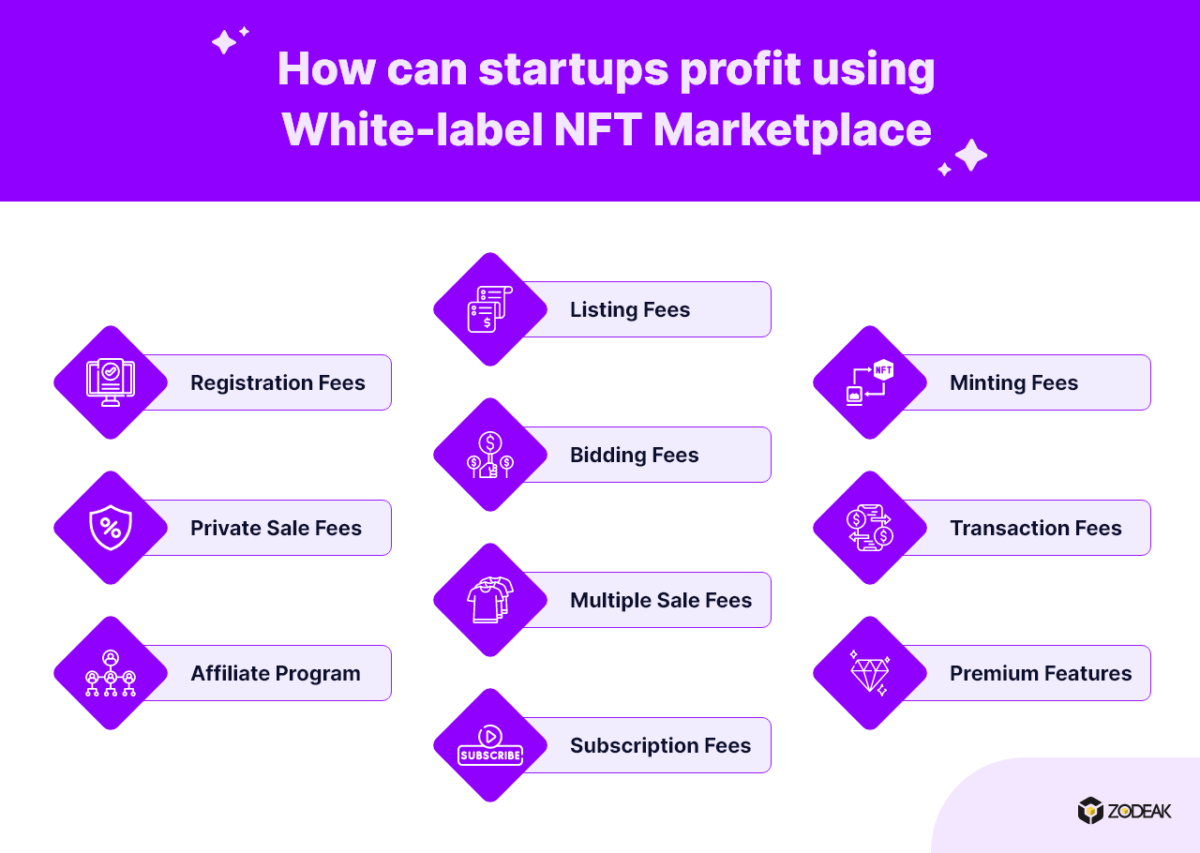 Registration Fees
You may charge a one-time fee to set up a user's account. Also, you may charge a certain amount of fees to gain access to the user's non-fungible tokens.
Listing Fees
As a platform owner, you can charge creators a fee for listing their non-fungible tokens. You can calculate the fees based on the cost of NFT, newly updated information, investor demand, or other factors. This fee may be a fixed fee per transaction or a percentage of the sale price. It can be either a one-time fee or a recurring fee.
Minting Fees
Minting fees are charged for registering unique work or digital artwork on blockchain networks. By minting a digital file, the non-fungible token can be produced. Content providers may pay less by minting more collectibles as opposed to minting each one individually on your platform.
Private Sale Fees
This option is enabled only if the content creators want to sell to a specific category. They may choose to pay the executive private sales commissions. The rest of the buyers can only look after the goods and the sale or auction. It is easier to find genuine buyers of NFT as opposed to those trying to drive up its price.
Bidding Fees
The platform owner has the right to charge additional fees on top of the bidding fee. The money must be paid by the creator who wants to start a bid or take part in it. The auction date, NFT value, and the participation of players can all affect the bidding fees.
Transaction Fees
Sellers can request cryptocurrencies of their choice to sell NFT work to buyers for payment in peer-to-peer transactions. For that, a transaction fee is charged for every successful non-fungible token sale made on your platform. This fee can be a certain percentage of the sale price or a flat fee per transaction.
Affiliate Program
Every artist searches for a marketing strategy to promote their works. Marketplace admin can decide to charge customers for access to real-time data on bitcoin collectibles, auction notifications, rewards programs, and other topics.
Multiple Sale Fees
Another way for the platform owner to generate income is by enacting a variety of sales tariffs. The platform is frequently used by artists and content creators to post their various works for sale. However, to execute these deals, the admin can deduct the network fees. Also, you can obtain a portion of this payment from the creators.
Premium Features
You can charge for premium features like increased visibility or sophisticated analytics. This may open up new revenue streams by giving more value to your platform users.
Subscription Fees
You may charge a subscription fee for use of specific platform features or VIP privilege services. This can offer a steady stream of income and encourage users to stay active on your platform.
It's important to remember that your NFT marketplace's revenue stream depends on a variety of factors, including your target audience and your platform's unique features, competitive environment, and capabilities.
Hence, it's crucial to carefully consider your monetization strategy to make sure that it supports your business objectives and offers value to your users.
Well, the next big thing is the software cost that every startup looking for. We'll see it now!
What is the White-label NFT Marketplace Cost?
White-label NFT Marketplace cost starts at $15,000 and varies depending on the add-ons, integrations, and features you choose to include. Everything in this area will depend on your business needs and preferences. Therefore, before investing in the NFT marketplace script, make a list of all the fundamental to advanced features you want to include.
If your budget is limited, start by purchasing and using a White-label solution that comes with built-in features without any customization. After gaining some financial success, you can concentrate on incorporating on-demand features based on user feedback. By doing this, you can create a profitable NFT marketplace quickly.
White-label NFT Marketplace Development
If you have a great business idea but lack the time or resources to create a platform from the scratch or if you don't want the technical and business challenges that come with standard marketplace development methods, then the white-label NFT marketplace development can be an optimal choice for you.
Using this, you can quickly and easily launch an NFT marketplace with all of the required features. There are numerous benefits to using this efficient solution for your business. It helps to customize to meet your specific needs and saves you time, money, and effort, and therefore benefits you in all aspects.
Moreover, it's crucial to collaborate with professionals who have experience developing highly functional NFT marketplace. So, with a little customization, you can quickly set up a platform with an astonishing appearance.
Wrapping up!
So, this was it! Hope this blog will assist you in making a well-informed decision about White-label NFT marketplace software that you can begin with.
What are you waiting for?
Learn more about all the advantages of having a white-label NFT marketplace by scheduling a demo call with our expert now!
Also, we look forward to outlining all the benefits of working with us!