As a startup entrepreneur, have you ever wondered how many cryptocurrency exchanges there are? Or have you ever pondered about the global crypto and user populations? Having these statistics at your fingertips is crucial as it helps you optimize your crypto-based business appropriately.
As of 2023, there are 569 cryptocurrency exchanges in the world. Out of the 22,904 cryptocurrencies that exist, 8,832 are currently in use. And there are growing population of 420 million cryptocurrency users worldwide. Currently, 18,000 businesses accept payments in the form of crypto according to investing.com and CoinMarketCap. 
These above stats show that creating a cryptocurrency exchange platform can be profitable for business owners in the coming days. Also, there are many opportunities present with creating a platform for crypto trading.
Generally, there are many ways to create a highly functional trading platform. Of all, choosing the KuCoin exchange script is an optimal choice to invest your hard-earned money. Know why? Continue reading…
What is KuCoin Exchange Script?
KuCoin exchange script is the cryptocurrency exchange software that is designed and developed beforehand. It contains all of KuCoin's current trading features and plug-ins. Startups can instantly create and deploy a feature-rich crypto trading platform by using the solution.
Most startups prefer this crypto exchange script for its high customization scope. By using this customization option, they can remove/add features, and front-end designs, and change visuals. Also, add more on-demand features based on their unique business requirements.
As it is built with the latest Bootstrap, it is compatible with desktops and any sort of portable device. It provides a user-friendly interface for platform users to have a smooth trading experience. Also, it makes it simple for users to exchange cryptocurrency for fiat currency or the other way around.
Moreover, the KuCoin exchange script cost starts at $4000 and varies based on the features, integrations, and add-ons you include. Everything in this area will depend on your business needs and preferences.
So, before investing in a script, make a list of all the fundamental to advanced features you want to include. And ask for a free demo to check the features of the KuCoin exchange script and its working status.
How does KuCoin Exchange Script work?
Just like other exchanges, KuCoin operates in the same manner. So, this script also functions well in both KuCoin P2P and centralized exchanges like the actual platform. Let's look at some steps that show how it works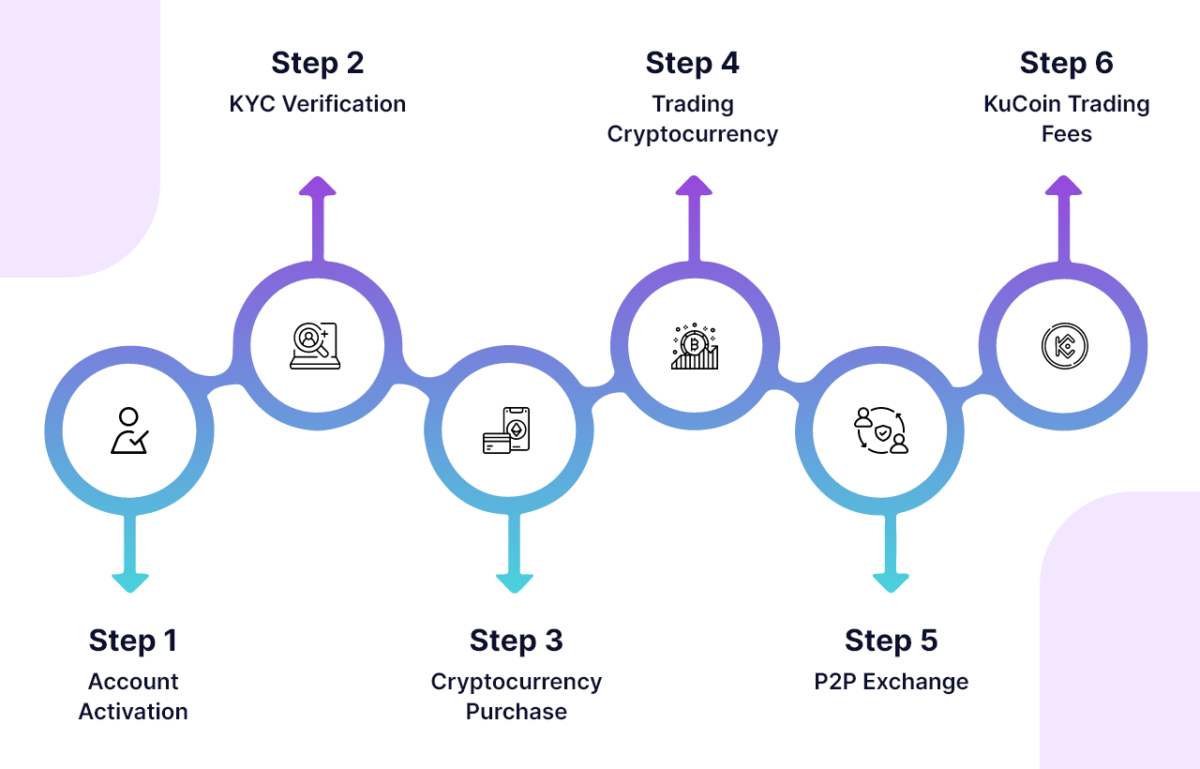 Step 1: Account Activation
The user must create an account by entering their Gmail username and password. A link will be sent to the registered Gmail address for verification. By clicking the verification link, the user can quickly activate an account.
Step 2: KYC Verification
After creating an account, the user must submit any valid government-issued document or any other authorized data for KYC verification. After completing the KYC procedures and two-factor authentication, he or she becomes a verified user and is qualified to freely trade or buy cryptocurrencies and use the built-in wallet.
(Note: KYC verification process can only be done by the platform admin, so the user data will be more secure)
Step 3: Cryptocurrency Purchase
The user must upload the bank information to deposit the fiat currencies to buy any cryptos or do conversions. Once fiat money has been successfully deposited, users can choose their desired cryptocurrency and submit their order.
(Note: Users can start buying crypto assets or performing any transactions only after connecting with their bank account)
Step 4: Trading Cryptocurrency
Users can use the trading engine, charts, and other trading features on the platform to start their trading journey. Once the trade order is placed it will be executed. Also, the purchased cryptos are instantly transferred to their built-in wallet.
Step 5: P2P Exchange
Users can now start trading by posting their requirements or responding to current advertisements. And the transaction between the sellers and buyers gets securely confirmed with escrow services.
Step 6: KuCoin Trading Fees
As a platform owner, you are allowed to charge your users a certain sum as a trading fee for each successful crypto transaction. By doing this, you can quickly reap significant financial gains and make huge revenue.
As it is a pre-designed KuCoin clone script, it aids startups to start their cryptocurrency exchange business journey right away. 
If you are still not sure if this solution is right for your crypto business? Further discussion might help you!
Revenue Streams of the KuCoin Exchange Script:
Here are a few revenue streams of the KuCoin exchange script that crypto startups can implement on their platform. so launching an exchange platform using this effective solution as a startup can increase your revenue in several ways that are listed below.
Exchange Fee
Charges apply on every trade that takes place on the platform. Maker-taker fees, volume-based prices, and other fees can be added to these costs.
Withdrawal Fee
Charges a certain percentage to users who decide to withdraw their money. This may be based on bank-based fiat or hardware wallet-based crypto withdrawals.
Listing Fee
The platform charges a certain percentage for listing the cryptos (coins or tokens) so that users can purchase the cryptocurrencies of their choice.
Token Launch
Offers a token sale through a specific Launchpad program, similar to other crypto asset listings. A set fee is collected to process the list of cryptocurrency tokens on the IEO launchpad.
Staking Services
The platform has investment opportunities to expand its services by staking users' purchased cryptos and depositing money. Also, the admin can provide cryptocurrency lending services in exchange for interest.
Margin Charge
Allows users to borrow crypto in advance for trading operations. Then, the admin imposes a particular fee on borrowed sums.
Advertisements
The platform owner may receive payment from the owner of a third-party advertisement by displaying advertisements through the website interface.
These are the fundamental revenue models that you can use with your cryptocurrency exchange platform. To increase your profits, you can also add your own suggested revenue stream to the KuCoin exchange script.
However, by consulting with the experts of the cryptocurrency exchange development company you choose, you can add some revenue streams like mining pool services, allowing access to trade history via API, facilitating the VIP privilege service, and more.
These are the revenue stream of the script. We hope this blog has helped you understand working and revenue streams in detail.
Well, let's see next why this is the solution to start your crypto business with different scenarios, so you can decide if this solution is right for you.
Why KuCoin Exchange Script for crypto Business?
Startups with plans to compete in highly competitive KuCoin markets can benefit greatly from this script. It may be more helpful in the following scenarios:
Scenario 1
Some trading businesses on the market are found to be operating profitably and flourishing in a specific country or constrained region. You may have plans to operate your crypto trading business locally or elsewhere.
At this point, you have the KuCoin exchange script, you can use it to launch and run it wherever you like.
Scenario 2
The second scenario is that if you are a startup with a tight budget, at the time, you can opt for a ready-made solution instead of the scratch method. This aids to save money for other aspects of their business.
This KuCoin exchange script is significantly faster, customizable, and more economical than other approaches.
Scenario 3
As you can see, some top crypto exchanges have more users base, but their offerings and features are limited. You might have some innovative ideas or creative suggestions to enhance the trading business even more popular.
So, you can combine your idealogy with a well-crafted KuCoin exchange script to create and launch a highly functional trading platform
Generally, not just a KuCoin exchange script, every cryptocurrency exchange script is not that easy to create. It's not some sort of copy-paste of a top trading platform like KuCoin as you might think. It is subject to certain rights and licenses too. 
Moreover, a KuCoin exchange script is built using the existing crypto exchange platform KuCoin as a reference with cutting-edge tools, advanced tech stacks, the latest bootstrap, and more technologies.
Hope these scenarios described above explain how the exchange solution can be beneficial for your business. Now you can make an informed decision about choosing the right solution for your crypto trading business.
Get the best KuCoin Exchange script from the finest cryptocurrency development company to build your platform today and break all records of top brands in the future!!