DeFi DApps Development
DeFi DApps Development is the process of getting Decentralized Finance (DeFi) Solutions into the Decentralized Applications (DApps). This DApp runs on a Decentralized ecosphere and operates any economical activities which are termed as DeFi DApps.
And it renders an adequate explanation for DeFi and Decentralized Finance Protocols. This Decentralized Finance DeFi DApps performs financial activities such as exchanging, lending, borrowing, and more., without any intermediates.
Table of content:
What is DeFi DApps?
Difference between DeFi DApps and Traditional DApps
How to Build a DeFi DApps?
How to Monetize your DeFi DApp Development?
Benefits of Decentralized Finance DeFi DApp Development
Major DeFi DApps
Enhance your business opportunities with Zodeak – DeFi DApp Development Services
What is DeFi DApps?
DeFi DApps is the future of the Decentralized Finance Platform. The user can access the platform quickly with the help of a mobile application or website. These operate as a platform for DeFi applications powered by Smart Contracts.
There are a vast amount of various DApps in the current crypto industry, they are.,
Decentralized Exchanges (DEX)
Lending Platforms
Yield Farming
Stablecoins
Liquidity Mining
Market predictions
Difference between DeFi DApps and Traditional Apps
Traditional Apps
Traditional Applications leverage software that exists on centralized web servers rather than the local operating system of typical devices.
Example: Twitter and Slack
Depending on the frontend and backend, plays an important element in their functionality in Traditional applications. So the information on the front end of the traditional application would come from data with the help of the backend or server of the firm.
DeFi DApps
In this DeFi Decentralized Applications, Smart contracts are the core engine behind the concept of Decentralization. It works as its backend on the Blockchain network that acts as various machines sharing the same transactional burden in a distributed network.
However, Decentralized Applications completely vary from web applications in terms of their backend also rendering the page on the frontend. And, it communicates with relevant blockchain networks by leveraging a wallet.
How to Build a DeFi DApps?
If you want to develop or build your own DeFi DApps, these four steps help you to a better understanding of the process of DeFi DApps Development.
-> Install Truffle and Ganache
-> Create an ERC20 Token
-> Compile an ERC20 Token
-> Deploy ERC20 token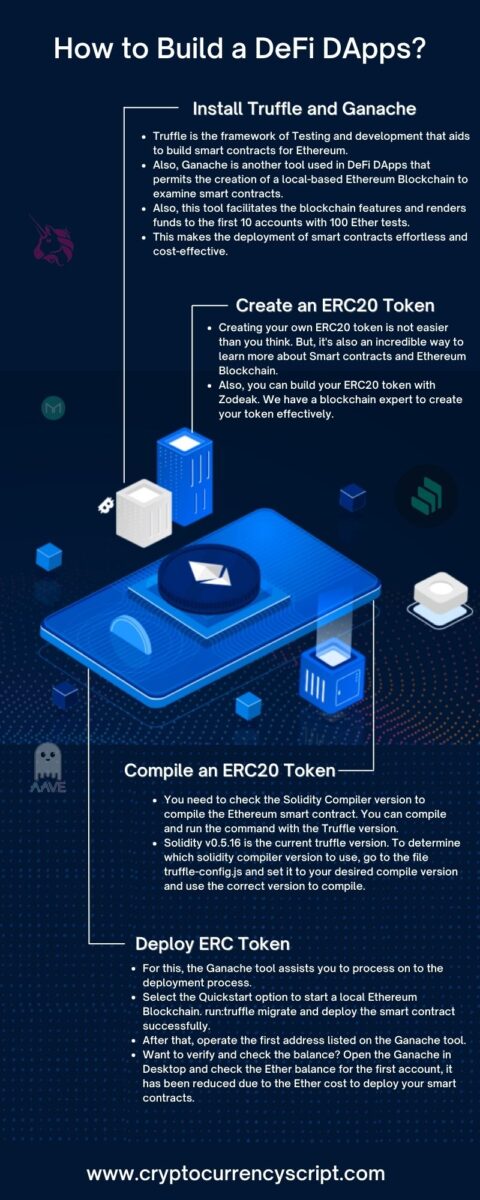 you can build your ERC20 token with Zodeak. We have a blockchain expert to create your token effectively.
Check here >> What is the ERC20 token? How much does it cost to build an ERC20 token?
We provide you with proficient DeFi DApp development services which contain all the steps to build your own DeFi DApps along with customized solutions in a hassle-free manner.
How to Monetize your DeFi DApp Development?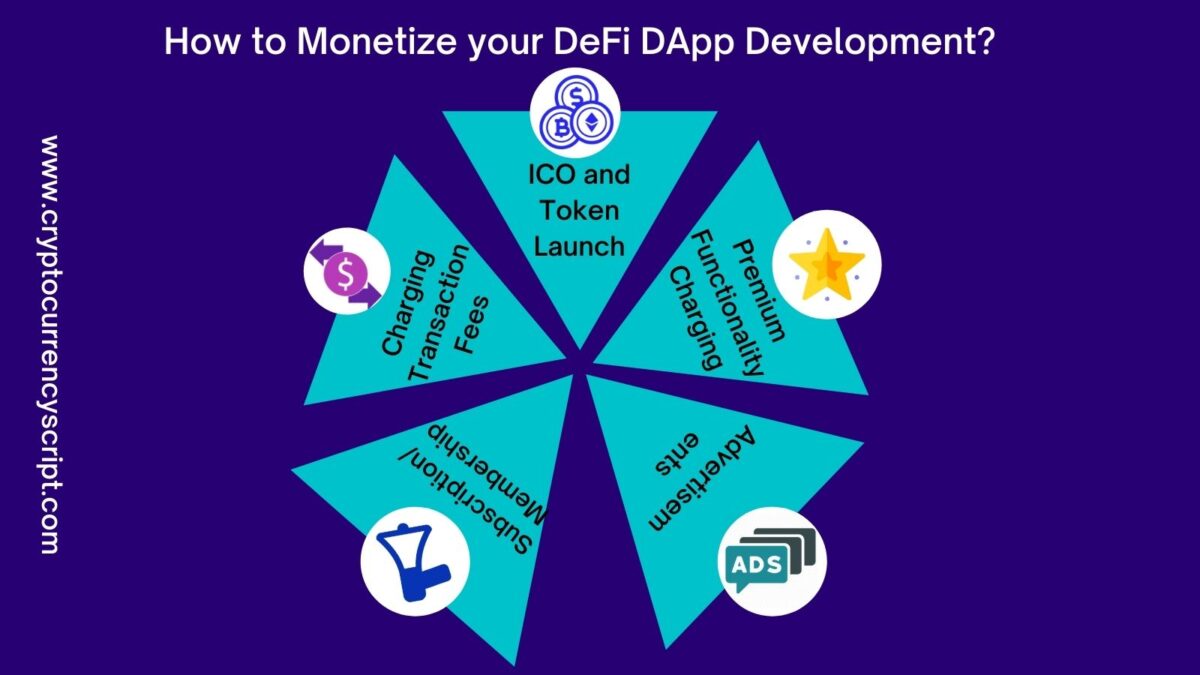 The main goal of every Cryptopreneurs and startup is to earn revenue after developing their own DeFi DApps. Here is the list of how you can easily make money from your DeFi DApps.
ICO and Token Launch
Launching a Token & ICO is the crucial attribute of generating revenue from Decentralized Applications. It is funding it with a token and putting it forward for crowd sale. This crowdfunding process indicates that your token will render profit to the token holders.
A great example is Non-Fungible Tokens (NFT). Currently, this token plays a significant role in the cryptosphere.
Charging Transaction Fees
Charging a specific amount of transaction fee is useful in DApps monetization. This transaction fee process has proved to be beneficial for DApps like CryptoKitties.
Ensure that you are charging a reasonable transaction amount in your DeFi DApp. Otherwise, somebody will copy your smart contract and publicize a version of it with lower fees or no fees at all.
Premium Functionality Charging
Some Traditional applications are in the freemium model. So that, they can earn and provide all essential services for free. Other advanced features may be chargeable. Same like, Gaming DApp also uses this same functionality.
Subscription/Membership
You can Monetize your DeFi DApp Development with the help of adding a Subscription or Membership program to your contacts. You can limit certain features to your subscribers. Membership duration in your DeFi DApp can be usage-based or duration-based and monthly access.
Advertisements
Since we are looking into DApps, Advertisements are less popular in the DeFi Ecosystem. Considering the popularity of Traditional apps, you can surely go for it. Many brand ambassadors choose their brand to advertise in DeFi DApps and make a lucrative profit on it.
Benefits of Decentralized Finance DeFi DApp Development
Various Benefits are included in our Zodeak's DeFi DApp Development Services some of them are,
Transparency
The transactions of the DeFi Platforms are completely anonymous, which means the identity of the user is covert. The Entire programming code of the process is completely transparent which means anyone can see the coding. So that it will be more reliable and trustworthy among users.
Permissionless
In the DeFi Ecosystem, anyone can create their own DeFi DApps or other DeFi related projects and offer the projects to the marketplace. No more tiresome difficulties or permission are involved in the DeFi world.
Money Legos
Same as Lego Blocks, DeFi DApps work as interoperable. One DeFi DApps can be built on another and the services are also enlarged via one source.
Worldwide Usage
If you want to start your DeFi based finance System, all you need is a smartphone with an Internet connection. So it has the enormous power of catering to the requirements of the international audience.
Accuracy
Some people are still doubtful of using these platforms. While most of these are baseless worries, it is important that you understand what the truth is behind the rumors. Compared to Traditional apps, Decentralized Finance DeFi DApps have higher accuracy.
Major DeFi DApps
Here is the major DeFi DApps development that is popularized in DeFi Sphere. they are.,
Uniswap
UniSwap is a completely DeFi based decentralized protocol for automated liquidity provision on Ethereum. The protocol facilitates a user to build a single token, named a Lender Token (LT), and sell it on a DeX protocol called the Swap Protocol.
InstaDapp
InstaDApp is an open-source DeFi protocol that allows users to control their digital assets with entire optimization like DeFi dapps or protocols like COMPOUND, Uniswap, and more.
DeFiZap
DeFiZap is a platform that is the combination of several DeFi based DApps for financial services. This enables the user an easier way to implement complex techniques in a few clicks. DeFiZap is popular for its Leverage Liquidity Pools (LLP).
Additional popular DeFi Dapps in the markets are
Aave
Compound
MakerDAO
Nexo
Synthetic and more.
Enhance your business opportunities with Zodeak – DeFi DApp Development Services
DeFi is universally termed as the future of finance. It's because of the massive business potential it holds. When it comes to DeFi DApp Development Services, there are various Business opportunities included for Crypto Entrepreneurs and startups. Zodeak Technology – the reputed Decentralized Finance DeFi Development Company provides our clientele with all types of DeFi Related projects and Blockchain development support too.
We have highly skillful blockchain engineers and technical DeFi Developers who assist you to convert your dreamier DeFi DApps projects into reality.
Get a Free Quote or Demo via,
Email: [email protected]
Whatsapp/Telegram: +91 9360780106
---
FAQ – DeFi DApp Development Services
1. What is DeFi DApp Development?


DeFi DApp(Decentralized Application) Development runs on a Peer-to-peer Network not owned by any centralized authority. These DApps deliver precise features such as user obscurity management, transparency, etc., to potential investors.



2. How can you make money from DeFi DApp Development?


There are five major steps that you assist you to make money from DeFi DApp Development they are.,

>> ICO and Token Launch
>> Charging Transaction Fees
>> Premium Functionality Charging
>> Membership/Subscriptions
>> Advertisements


3. How much does it cost to develop a DeFi DApp?


These DeFi DApps can fit under your budget same as other app development. Based on your business demands, the cost must be varied. You can reach us and get your quote via, Email: [email protected]



4. What are the Major DeFi DApps included in the DeFi industry?


Here are the Major dApps in the current DeFi industry. They are., 
>> Decentralized exchanges (DEXs)
>> Stablecoins
>> Lending platform
>> Yield farming
>> Money legos