In this fast-moving world, one can start a crypto-based business instantly with all the technology possible today. Some may have enough funds to develop the software and some with limited budgets will go for White-label crypto exchange software. Both are effective in whatever way they choose.
Startup entrepreneurs with tight budgets that go into cryptocurrency exchange development often don't get much rain in their pockets. Because they have to invest almost half or more of their budget to develop the software.
Meanwhile, smart business minds will go behind white-label crypto exchange software more than other approaches. Know why? It is Because,
With just a little customization, the startup will quickly launch its platform before its rivals develop it from the base
Generally, it provides a wide range of benefits at the beginning, including high-end security, more reliability, and cost-effectiveness, making it an optimal choice for businesses looking to enter the crypto market.
In this blog, we will describe in detail the white-label cryptocurrency exchange software, its functionality, features, benefits, and cost. So, feel free to click all the links to get more information about crypto exchange.
Let's jump to a blog to explore the topic now!
What is White-label Crypto Exchange Software?
A white-label crypto exchange is software to manage, and operate trading platforms that can be branded at the buyer's discretion. It allows businesses to quickly and easily set up their crypto trading platform without having to build it from scratch.
In addition, white-label exchange platform software is designed to be user-friendly, secure, and highly customizable. It has features such as automated order matching, liquidity management tools, real-time market data feeds, API integration with external services, and more.
Basically, when building your platform using white-label crypto exchange software, there are some sets of features you should check or include:
1. Margin Trading
2. IEO Launchpad
3. Built-in Wallet
4. Payment Gateway
5. Liquidity API
6. Atomic Swaps
7. Effective admin panel
8. User Panel
9. TradeView Chart API
10. Matching Engine
11. Referral Program
12. KYC Verification
12. Security Features and more
These are some of the features you should check with the crypto exchange white label you purchase. Along with these features, you can add P2P transfers, transaction fee management, dispute management, etc. Plus, you can fully customize this solution based on your unique business needs!
By doing these, you can install a high-performing crypto exchange white-label in no time! Now, we will see how to install this successfully in the following discussions,
What is the Process to Successfully Install White-label Crypto Exchange Software?
A white-label crypto exchange is a platform software that allows businesses to create their own customized cryptocurrency exchange without the need for extensive development resources or technical expertise.
In order to outline the procedures for operating the cryptocurrency exchange business, we created this list.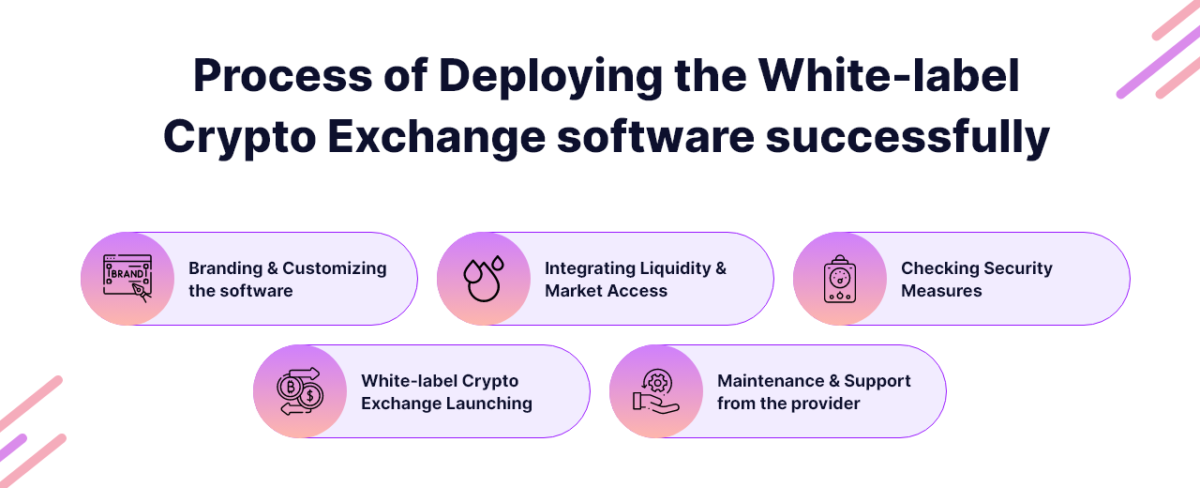 Branding & Customization
You first add its branding elements such as logo, colors, image, typography, and other related stuff. Then customize the exchange by adding or removing features, integration, and appropriate plug-ins.
More precisely, also includes setting trading fees, creating user accounts, setting up payment methods, determining the type of cryptocurrencies that can be traded, and more to fit your specific needs.
Liquidity & Market Access
You can partner with other exchanges, market makers, or liquidity providers to get enough liquidity and a wide range of cryptocurrencies to the platform. This is to ensure that your platform users have access to a wide variety of trading pairs.
Security Measures
Security measures are critical in any cryptocurrency exchange platform. The solution providers usually offer built-in security features such as multi-factor authentication, encryption, and cold storage for user deposit funds.
White-label Crypto Exchange Launch
Finally, you can install the solution on your own servers or cloud infrastructure. Once all setup is done and configured, you can launch the trading platform and start offering services to your users.
Maintenance & Support
The solution provider usually provides ongoing maintenance and support to ensure the exchange platform operates smoothly and stays up to date with the latest security features and compliance requirements.
Overall, this software allows your businesses to quickly and easily with a minimum of technical expertise. Moreover, providing access to the liquidity and market depth necessary for successful trading.
Now, know what to do with this effective solution for your business! Well, let's look at why you need to invest in this effective software next.
Why Invest in the White-Label Exchange Platform in 2023?
Cryptocurrency usage has skyrocketed in almost every digital-based sector now. Between 2018 and 2020, the number of crypto users increased globally by 190%. and now there are currently an estimated to be 420 million cryptocurrency traders and users worldwide.
These statistics are sufficient to say why you should invest in a crypto-based business. Cryptocurrency may have ups and downs, and traders may make a profit or loss, but the platform owners will definitely have rain in their pockets.
Therefore, business people like you should always seize the opportunity that is present in it!
Reason to Invest in the White-label Crypto Exchange Software
There are several reasons why investing in white-label cryptocurrency exchange software can be a beneficial choice in 2023: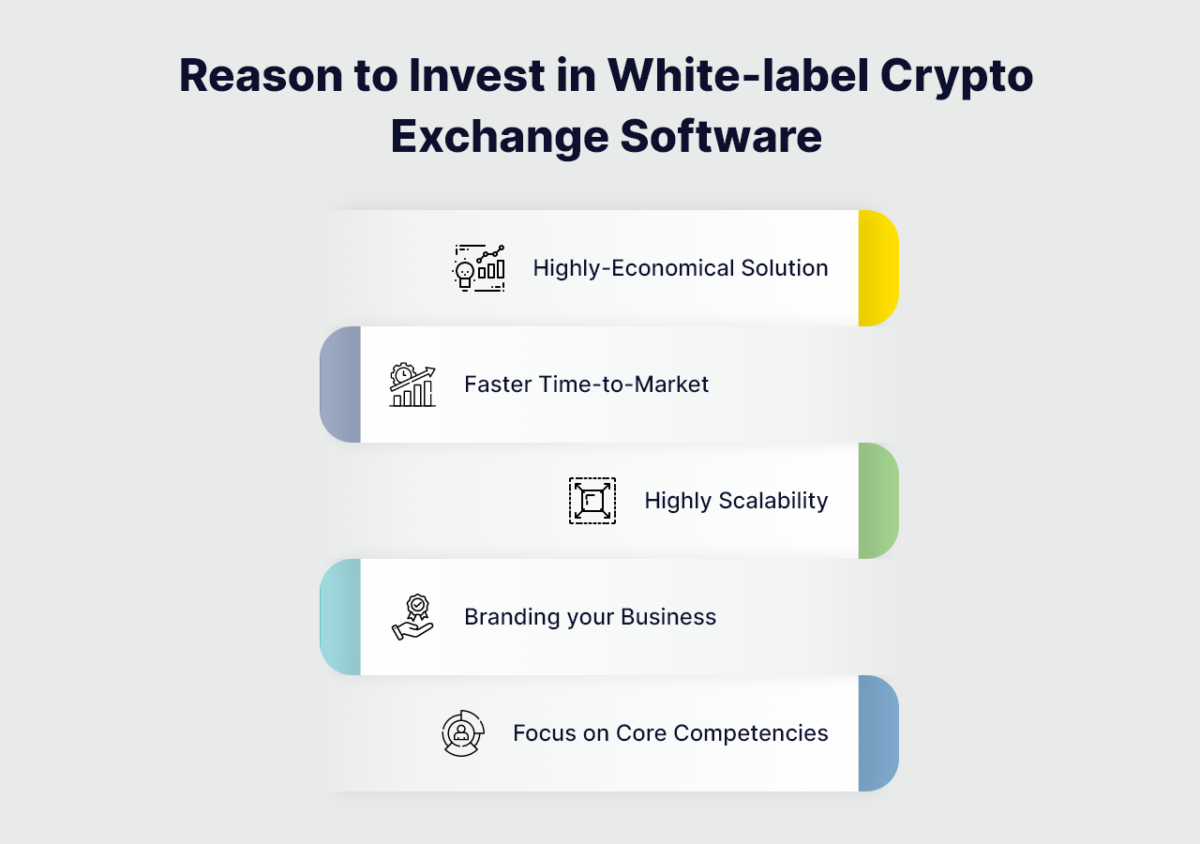 Highly-economical Solution
White-label exchange software cost starts at $5000 and varies based on the above aside features, integrations, and plugins you include. It is a cost-effective option for businesses that want to offer a new software solution without investing in the development approach.
Basically, it allows businesses to avoid the high costs of developing a software solution from scratch and provides them with a customizable solution that meets their specific needs.
Faster Time-to-Market
This ready-to-launch solution can be implemented quickly and can help businesses reduce their time-to-market. As the software has already been developed, businesses can simply customize it to meet their specific needs and launch it in the market.
Highly Scalability
White-label exchange software is often crafted to be scalable, which means that it can be easily adapted to the growing needs and preferences of your trading business. This allows businesses to easily add new features and functionality as their customer base grows.
Branding
Businesses can re-brand the software solution as their own, providing them with a unique identity in the market. This allows businesses to differentiate themselves from their competitors and build brand awareness.
Focus on Core Competencies
By investing in white-label crypto exchange software, businesses can focus on their core competencies, while outsourcing the software development. This allows businesses to focus on their strengths and leave software development to the experts.
In a way, investing in white-label software can be cost-effective, scalable, and customizable. This effective solution can help to manage, automate or run anywhere quickly and efficiently in the market before their rivals do.
Hope you got the little insights right! Now, it's time to end up the session.
Final words!
We hope this blog has provided relevant information and will help you make better decisions in your business. Despite its many advantages, white-label cryptocurrency exchange software is not for everyone.
It is for those who,
Wants to be a part of the crypto world soon
Starts their crypto exchange business with a limited budget
Don't want technical and business headaches in the standard cryptocurrency exchange development process
To find out if white-label software is right for your business, talk to our expert for clarification. After gathering some information about your needs and preferences, you'll get unbiased solutions for your business from our experts. We'd love to hear from you!